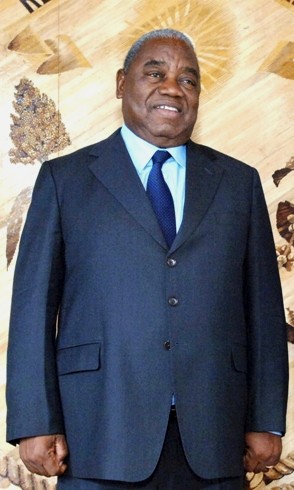 Zambian President Rupiah Banda
© Rwanda presidency/afrol News
afrol News, 1 December
-
As HIV/AIDS prevalence is finally being reduced in Africa, also Zambia can celebrate successes in the fight against the pandemic. Almost all Zambians suffering from AIDS now receive treatment.
This was announced today, on World AIDS Day, by Zambian President Rupiah Banda, who said that boosting health provision throughout the country had been "a key government priority" since he came to power.

President Banda in his speech said that government had "widened access to the vital anti-retroviral drugs which can help those infected with HIV to manage the disease and lead a healthier and more productive life." In total, anti-retroviral medicines (ARVs) were now being provided to 89 percent of Zambians suffering from AIDS, he said.

"Since 2008, my government has placed more than 300,000 extra people, among them over 23,000 children, on these important medicines to combat the scourge of HIV/AIDS in our country," according to President Banda. Some 4,000 new doctors and nurses had been recruited into the Zambian healthcare system since 2008.

Another important policy goal had been to eliminate the transfer of HIV/AIDS from pregnant mothers to their unborn children by 2015. "In pursuit of this, the government has provided access to anti-retroviral medicines for an additional 47,000 HIV infected pregnant women in the past year," according to presidential adviser Dickson Jere.

In 2009 some 1,550,000 people were tested for HIV in Zambia, according to Mr Jere. Fresh UN data however reveal that only 15 percent of adult Zambians know their HIV status.

Despite the successes pointed to by President Banda and his advisor, Zambia is still experiencing an AIDS epidemic. The national HIV prevalence rate is estimated at 17 percent among adults ages 15 to 49, and there are still not reliable data showing this rate is declining. Zambia has, however, stabilised its rate of new HIV infections.

About one million Zambians are currently living with HIV/AIDS, placing a great burden on the country's health services and strongly reducing Zambia's productive workforce.

Still, some 251 Zambians are infected with HIV on a daily basis, according to the latest UN data. 25 of these are children.

© afrol News